Practitioners and Staff
Dr. Susan Capelle and our team of Nurse Practitioners have been working together to care for women since 2004.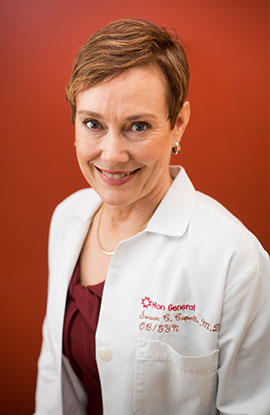 Dr. Susan Capelle, FACOG, FPMRS
Dr. Susan C. Capelle is originally from Maryland and moved to West Virginia in 1980 when her family moved to Western Maryland. She graduated from West Virginia University School of Medicine in 1991. During medical school she received the first E.B. Flink Award for Excellence in Internal Medicine and was inducted into the Alpha Omega Alpha Honor Medical Society. She then completed residency in Obstetrics and Gynecology at Magee Womens Hospital of the University of Pittsburgh in 1995. After 2 years in private practice she returned to Magee Womens Hospital to complete a Fellowship in Urogynecology, also known as Female Pelvic Medicine and Reconstructive Surgery.
In 2000 she moved back to WV to be closer to her family, and started a private practice specializing in Gynecology and Urogynecology. She practices primarily at Monongalia General Hospital where she is also a board member of the Monongalia Health System. She is also a Clinical Instructor with the WVU Department of Obstetrics and Gynecology- where she teaches residents and medical students when performing surgery at Ruby Memorial Hospital
She became interested in Urogynecology when she realized how common and inadequately treated urinary incontinence and pelvic support/prolapse disorders are in women of all ages. Her focus is in the surgical and non-surgical care of women with these conditions. She prefers the most minimally invasive approach if surgery is required.
Dr. Capelle is Board Certified in Obstetrics and Gynecology and is a Fellow in the American Board of Obstetrics and Gynecology (FACOG). She became board certified in Female Pelvic Medicine and Reconstructive Surgery (Urogynecology) when that board certification exam became available (2013) She has been the only fellowship trained Urogynecologist in the state of WV since 2000.
Education:
University of Maryland, B.S. Horticulture. (1980)
Oregon State University, M.S. Horticulture. (1983)
WVU School of Medicine, M.D. (1991)
University of Pittsburgh, Magee Womens Hospital
OB-Gyn Residency. (1995)
University of Pittsburgh, Magee Womens Hospital
Urogynecology/FPMRS Fellowship. (2000)
Board Certification
American Board of Obstetrics and Gynecology (1997)
Female Pelvic Medicine and Reconstructive Surgery (2014)
Membership
American College of Obstetrics and Gynecology (ACOG)
American Urogynecology Society (AUGS)
International Urogynecology Associaton (IUGA)
American Society of Cervical Colposcopists and Pathologists (ASCCP)
American Institute of Ultrasound Medicine (AIUM) MedInformatics Client Advisory Board
Pelvic Floor Disease Network (PFDN)