New Patients
Getting your complete and accurate medical history is important to us. We would like you to spend your time at our office talking to us, not filling out paperwork. If you have had previous procedures, surgeries or records that are pertinent to your care–please, obtain these medical records so that we can have as much information as possible available at your first visit. If you have any questions you may call 304-599-7075.
It is absolutely essential to bring your insurance card and some form of picture ID. This is to protect your identity (from insurance fraud) and to comply with federal law.

Forms #1 and #2 need to be completed prior to seeing your provider. Form #3 is optional.
3. WV Voluntary NonOpioid Advanced Directive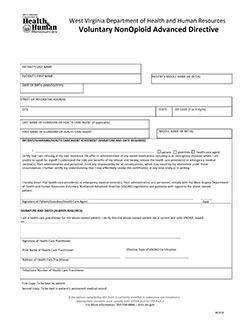 View PDF
You can complete these forms online, print and bring them with you to your appointment. Alternatively you can print the forms, complete them by hand, and bring them with you to your appointment. On your computer, we recommend using Adobe Reader (11 or higher) to print and/or save. If filling out from within a browser, use the print and save controls from within that browser.